EXPORTERS OFFERED THEİR SUGGESTIONS FOR VAT SYSTEM REFORM TO MINISTER OF FINANCE NACİ AĞBAL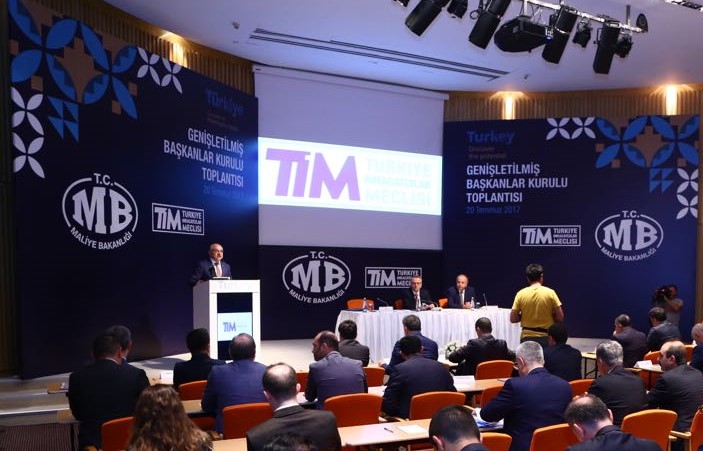 Turkish Exporters Assembly (TİM) filed the report on the demands and recommendations of exporters for VAT System Reform to Minister of Finance Naci Ağbal at the Extended Board of Presidents Meeting. President of TİM Mehmet Büyükekşi stated: "We had recommendations to hinder time lost, to fasten cash flow, and to promote recording of economy in the report."
Declaring that the real sector has due of 140 billion TL , Minister of Finance Naci Ağbal said: "Everybody is complaining of VAT law. VAT is supposed to excise consumption but it is excising production." Stating that exporters should have been given red passports, Ağbal: "Turkey would catch up 5% grow-up in 2017 and this growing would have a large pie of exports. This makes us really happy."
TİM Extended Board of Presidents Meeting, has gathered with the participation of Minister of Finance Naci Ağbal. Upon the desire of Minister of Finance Ağbal to listen recommendations and needs of exporters for VAT System Reform two months ago, a report on VAT Reform prepared with the consultancy firm KPMG had been filed to Minister at the meeting. Wishing the new cabinet to be propitious to both economy and the exporters, President of TİM Mehmet Büyükekşi stated: "We had recommendations to hinder time lost, to fasten cash flow, and to promote recording of economy in the report."
Stating that they have 3 main expectations from VAT Reform as TİM, Büyükekşi said: "Firstly,we believe that the existing bureaucracy should be minimized. Also, an increased coordination between ministries is very important for us to fasten the processes. Lastly, the delays of VAT returns, which is one of the exporters' frequently mentioned complaints, is quite significant to resolve before it turns out a financial burden."
VAT System-European Union Cohesion has been analyzed
Declaring that with their demands put into practice the processes will be facilitated and bureaucratic hinders will decrease, Büyükekşi: "fastening the processes of VAT Returns, we would more easily catch-up with the international competition. At this point, VAT Reform is a really important title for us." Büyükekşi also pointed that the reports includes VAT systems of 9 countries as examples and the examination of the conformity of Turkey's VAT system with European Union.
4.400 applications for green passports had passed the preliminary approval
Reminding that the exports contributed 2,2 points to first-quarter-grow and half of the $155 billion exports goal have been achieved in the first 6 months, Büyükekşi stated: "the share of our government is really big in this success. We had positive responses to most of our demands last year." Recording that 4400 application for the right of exporters to have green passport had passed the process of preliminary approval, Büyükekşi continued as:
"Besides the green passport right, supports of exports increased form 1 billion TL to 3 billion TL. Production of high and medium-high tech products has been excluded from stamp tax and customs duty-like fee. Stoppage incentive for the personnel has been provided to the service businesses which has 85% of its income from foreigners. Exemption degree from special consumption tax had been increased for the vehicles carrying exporting products. We thank to our government for each and every support of them.
Minister of Finance Naci Ağbal thanked to TİM
Minister of Finance Naci Ağbal stated that last year he visited many Civil Society Organizations including TİM and listen everyone's complaints about VAT law. Upon this, the decision of a VAT System Reform had been started. Ağbal: "We did not want to do this alone. We asked for recommendations from Non-governmental organizations. I thank you To TİM, to Dear President and to all of our exporters for their quick replay." He continued as: "the Numbers and the statistics shows that Turkey would catch up 5% grow-up in 2017 and this growing would have a large pie of exports. This makes us really happy."
Pointing that VAT is supposed to excise consumption but it turns out to a tax that excises production, Ağbal said: "the real sector has due of 140 billion TL. Existing VAT System works against the benefit of domestic production. Sometimes, bringing a good from a foreigner country for production is more profitable."