KOLAYDESTEK.GOV.TR IS ONLINE!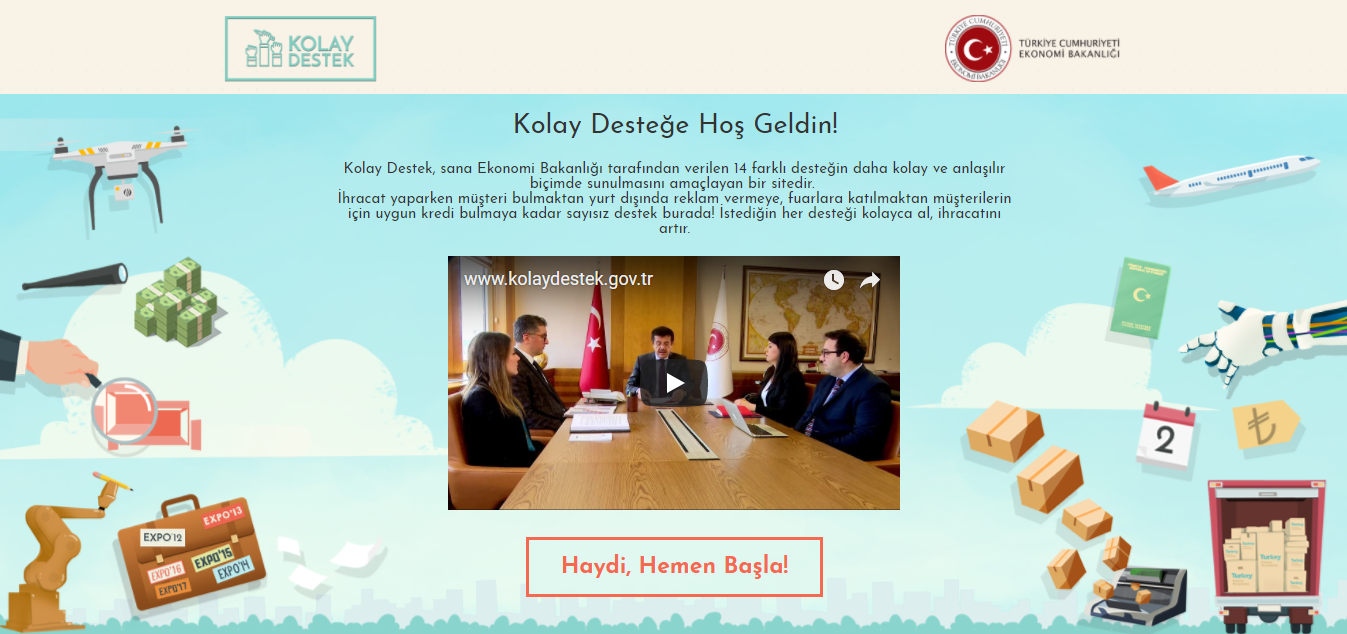 The website of www.kolaydestek.gov.tr is put into service to easily follow the regulations on export supports and to abolish the problem of access to documents by the Ministry of Economy.
The process of creation of kolaydestek.gov.tr is started when Minister of Economy Nihat Zeybekci gave instruction to experts, who made hundreds of interviews with the companies. The interviews were made to be able to detect the problems of implementation of supports, provided by the Ministry of Economy and to solve those problems. The result of interviews was that the companies had diffuculties to access, understand, and comment the regulations, that they cannot easily apply, and even they apply some companies think they will not be provided with the supports. Companies also founded a occupational group called "Consultancy for Government Supports".
It was decided that the first Behavioural Public Policy Unit of our country "Nudge Turkey", which is under the roof of Ministry of Economy, would directly contact to the companies who do not have any information about the supports. Nudge Turkey will inform the companies about the supports by a letter written by Nihat Zeybekci and invite them to apply. Especially the companies which did not get any support in the past, will be delivered a special message from Nihat Zeybekci.
The Completed Documents will be Provided to the Companies
www.kolaydestek.gov.tr is also put into service to make the companies understand the regulations and to abolish the problem of access to documents. Every support is explained by images in the web site. The completed documents are provided to the companies. The companies only need to download the ready documents, apply to where the web site directs, and get the support payments.
Expressions, symbols and the design is made up by behavioural principles in this web site, which include Minister Zeybekci's addressing to the exporters. In his addressing, Zeybekci underlined that all of the supports of the Ministry are well explained and accessed easily via the new web site. The process of application and all the tricks are explained step by step here.
"Esteemed Exporter Colleague, these supports are not favour to you, its your right as the companies of this country." Zeybekci continued: "Come and take advantage of the supports without delay. Exporting is a national issue. We are ready to support you with every means available."
Highlighting that Exporters and Ministry of Economy is a family, Zeybekci recorded: "we are working really hard to increase our exports with you. We provide many different supports to help you export. We are covering 50% of your expenses at many items. However, the number of companies benefiting from our supports are far below our expectations. My friends have met with many companies and listened their worries. As a colleague of you, who started to export in 1990s and spend many years devoted to export, I wanted to underline that there is not one company that apply to our supports with the required documents and could not get the support. From now on, we are taking yet another turn to a system that is easy, new and understandable for all companies to access the supports. We prepared 'kolaydestek.gov.tr' for you. Thus, you do not need to think where to get required documents or where to apply. On our new web site, we explained step by step what we support, how to apply by examples and the tricks you need to know. The contact information of our experts who may help you for every support is in our web site too."
E-Signature Era for Application
Beginning from 1st April, applications for export supports will be taken by electronic media via companies' registered electronic mail (KEP) adresses with e-signature on them. From that date paperwork applications will not be accepted.
Ministry of Economy aims to accelerate application processes, increasing the quality of service at government supports and provide efficiency in implementation with the web site.