Partnership Call from Brazil to Turkish Exporters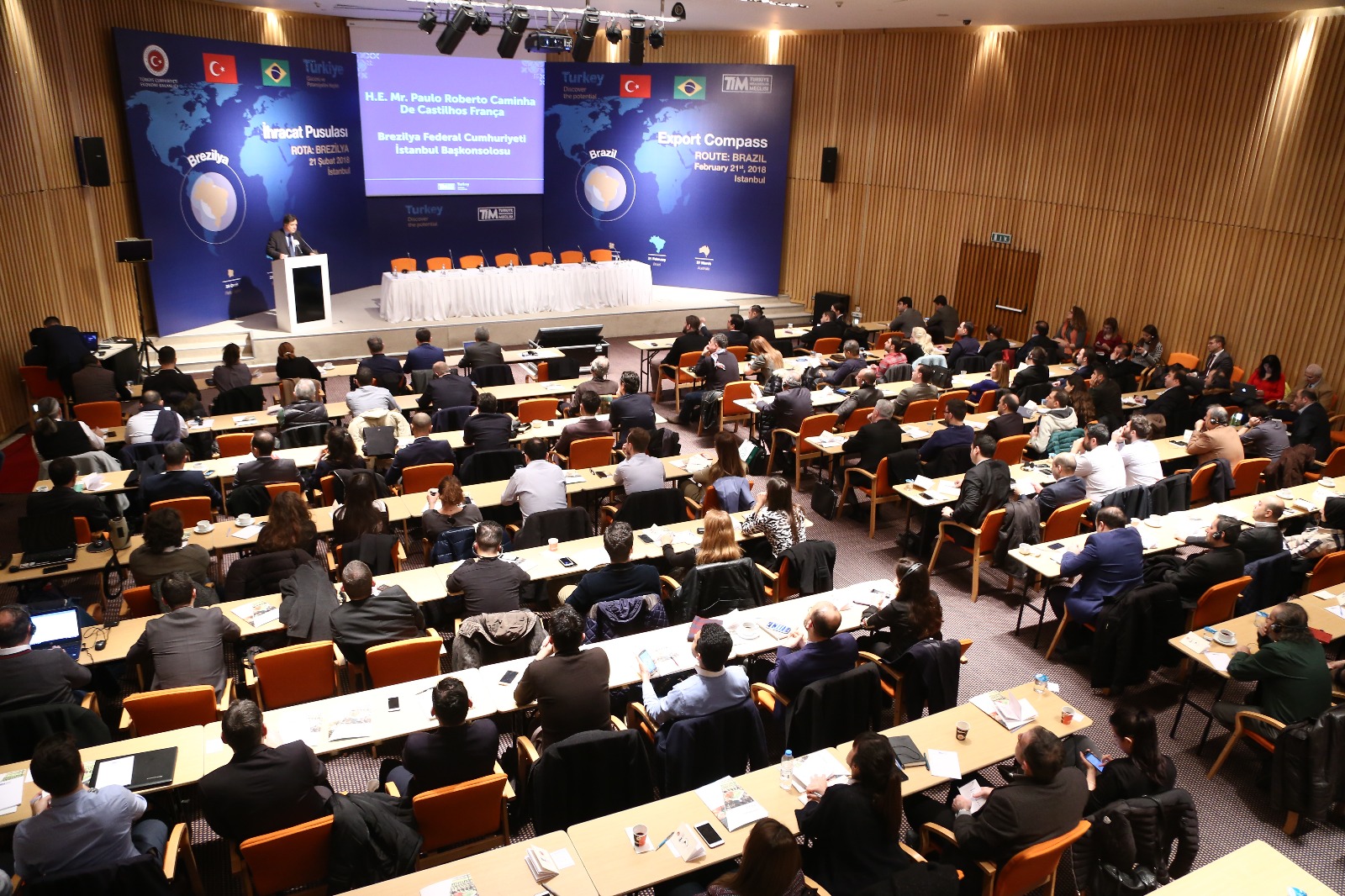 Brazil as a market was on the agenda of the "Export Compass" event hosted by the Turkish Exporters' Assembly. During his opening speech; Consulate General of Brazil, França underlined that there has to be a free trade agreement between Turkey and Brazil and these two countries have to move their commercial relations further through partnership in third countries.
Former Commercial Attaché of Turkey to Sao Paolo, Ramazan Kısa, mentioned that Turkey can export especially construction materials, parts of automobiles, textile products, flour and dried fruits to Brazil and added: "Our exporters should be patient when doing business in Brazil. Because Brazilian people have an easygoing character, things can be done a little bit slower than you expect. However if you approach in a friendly manner, you can be friends besides the business. They have a similar culture and character to us."
The "Export Compass" event held by Turkish Exporters' Assembly (TİM) focuses on promoting new target markets to the exporters with the assistance of COFACE. "Route: Brazil" was the second event of 2018, hosting more than 180 exporters and 7 guest speakers. Nevsal Zülküf Alhas, Director of the R&D department of TİM, briefly gave information about the economic structure of Brazil and the commercial relations with Turkey. Later on, the Consulate General of Brazil to Istanbul, Paulo Roberto França expressed that Brazil is rapidly transforming its economy to a free market economy after Michel Temer, new president, elected.
Turkey and Brazil Should Act as Partners through 3rd Countries
"Brazil experienced 3.5% shrinkage in GDP during 2015 and 2016. However with the new government and economic policies, the inflation lowered from 12% to 2.5% just in two years" said General Consulate França and added that "Brazil is an important center for industrial and agricultural sectors in South America. Therefore we have to improve our level of cooperation in order to experience better progress."
He also mentioned about the commercial relations of Turkey and underlined that "Turkey and Brazil should sign a free trade agreement and act as strategic partners through third countries. Especially construction and engineering sectors can be an example for such partnership. Turkey has a strong influence in Middle East, Caucasus and Africa markets while Brazil is strong in South America and Africa."

"Be Patient in Business, Watch Football Together"
The former commercial attaché of Turkey to Sao Paolo, Ramazan Kısa gave detailed information about business environment in Brazil and taxation policies of Brazil. He said that the most favorable goods to export from Turkey to Brazil are; mainly construction materials, automotive parts, cosmetics, machineries, dried fruits, flour and confectioneries. Kısa also relayed information about the high taxes in Brazil and tips to minimize their costs with the ongoing taxation policy. On the other hand he warned our exporters not to expect immediate results from their first participation to a fair but they can build strong ties with seeking local friendships rather than business to business relationships. He added; "Brazilian people are similar to us regarding to our family and cultural life."
Meanwhile, Coface Board Member and General Manager Emre Özer informed the exporters about their "insurance for receivables" product and shared certain case studies Coface experienced with their clients exporting to Brazil, specifically in machineries, dried fruits, auto parts and textile sectors.
At the end of the panel, Felipe Pinto, Commercial Consultant to Consulate General of Brazil to Istanbul, also said that they are always open to questions from Turkish firms and ready to help them about entering the Brazil market.